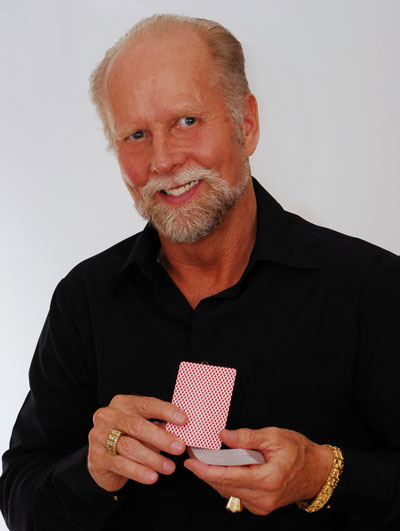 Gaming experts and gamblers know and respect Richard as a master Card Mechanic-Manipulator, who could take down any old-west casino or wipe out any high-stakes gambler. His unparalleled skill with a deck of cards has stirred and staggered audiences throughout the world. Featured on dozens of worldwide TV specials, documentaries, magazine cover stories, and profiled in hard cover publications, News Paper features, and TV commercials ranging from the topic on "Face the Nation" with Bob Schieffer in 2012 to the Harper Collins 2012 release of Fooling Houdini, he bamboozled Brad Pitt with his co-star Sean Penn in the 2011 Oscar-nominated movie "Tree of Life," the 2012 documentary "The Magic Life," "Ripley's Believe It or Not," "World Geniuses" in Japan, to "That's Incredible," way back in 1982.
Many publications have profiled his exploits, including The Huffington Post, Home Page of AOL.com, the Los Angeles Times, the Dallas Times Herald, the Orlando Sentinel, the cover story of Genii magazine, and he was even mentioned as the card teacher of THE SPIRIT in the long-running comic book series of the aforementioned name.
He has entranced national celebrities such as Secretary of State Colin Powell, actor Brad Pitt, space traveler Richard Garriott, producer David McFadzean, singer Lee Greenwood, and legends like Muhammad Ali, Johnny Carson, and Bob Hope.
When not entertaining the rich and famous, he inspires students, our military personnel, and Corporate America with lively talks that coax, connect, and entertain. Being a possibility thinker, Richard reveals what we SEE and FAIL TO SEE and in a VITAL and IMMERSIVE WAY, leads audiences on an exploration of the SEEN and UNSEEN, the REAL and UNREAL, while making sense of our wondrous brains and in OFFBEAT, ENTERTAINING WAYS.
The recipient of many accolades and honors, Richard has received the FBI Director's Community Leadership Award, Rotary Leadership Award, Honorary Commander in the U.S. Air Force, Honorary Naval Flight Officer, the Golden Lion Award (awarded by Siegfried and Roy), and was inducted into The Magic Castle's Hall of Fame. He is also listed in Believe the Unbelievable Book of World Records for his amazing "Eight-Coin Roll."
When he is not entertaining and educating, he actively practices the martial arts. He is currently a Master, holding a sixth-degree black belt in karate. His black belt test, ten rounds of three minutes each, was so grueling it was televised and appeared on the front page of the sports section of the Los Angeles Times.

  He also designed and created a series of board and puzzle games, including Batty and Texas Showdown.

His company (Showdown Creations Inc.) has  produced a bestselling DVD series on advanced card technique that is used by casinos and cardmen worldwide.

Due to his remarkably delicate "feel" for the pasteboards, he has been the Touch Analyst for USPC, the largest card manufacturer in the country, known for producing the finest quality cards used by professional magicians and gamers.

He has written a novel titled Re-Deal a Time-Travel Thriller

  Richard is currently co-starring in CONNED, a stage show produced by Magicspace Entertainment and Mills Entertainment, which features four of the most renowned international con artists, including Bob Arno, Banachek, and Todd Robins.

The forthcoming biography of Richard's life story, written by renowned author Jon Racherbaumer and aptly titled All In – All Out: Winning with the Cards You are Dealt intimately discloses his credo of survival and triumph.

See Richard in action on YouTube at AsaT52 or CatchAThief52

Download Genii magazine's cover story of Richard Turner (PDF, 1.2MB)
---