Batty® brings the elements of an ancient classic, The Tower of Hanoi, into the 21st century.  However, the Tower of Hanoi's formula is visible to the player via the disk set-up; Batty® heightens the challenge by randomizing the cards and burying the formula. The varying degrees of difficulty vary from second grade to a statistics professor.
Scroll to the bottom of the page to watch Richard Turner demonstrate in the video below.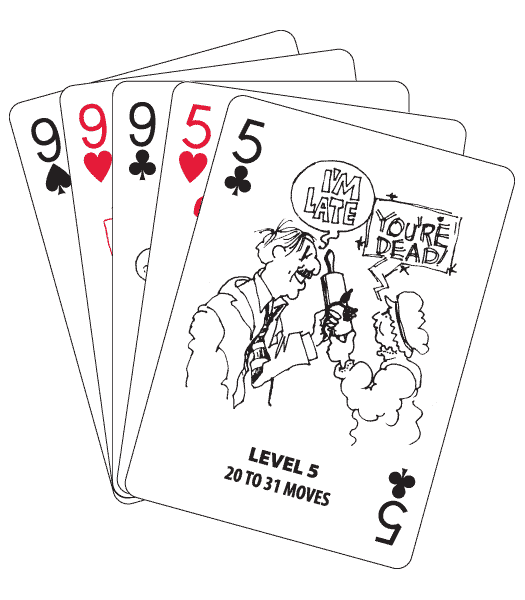 The range of complexity varies with each shuffle.  A level 5 can be resolved between 20 to 31 moves to solve a level 11 will take anywhere from 1023 TO 2047 moves and that's if you don't make a wrong move. However, unlike some solitary games, no matter how off the track things get Batty can always be resolved.
Made by the U.S. Playing Card Co., this Traditionally Cut deck has the classic looking Bicycle Mandolin back.  The faces, pips, and numbers are drawn by a Disney artist and illustrate things that drive us all Batty!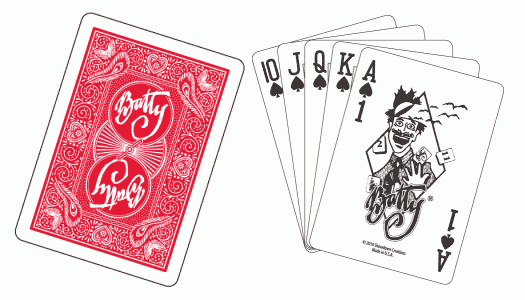 If insanity occurs, Batty can double as a standard pack of 52 playing cards.
Batty can be played solitaire or challenge your sanity against a group.
To purchase Batty, visit our Products page.
See the page Playing Batty for written rules and examples.