Download a PDF of Richard's Biography
Playing the Hand You Have Been Dealt
Playing the hand you've been dealt isn't just a figure of speech for Richard Turner... it's a way of life.
Turner, 62, lives in San Antonio, Texas, and is regarded as the best card mechanic and among the best up-close magicians in the world. His talent, humor, poise and eloquence has made him a highly sought after stage entertainer and Fortune 500 motivational speaker. He has entertained and entranced millions of people, including celebrities such as Johnny Carson, Bob Hope, Secretary of State Colin Powell, actor Brad Pitt, sports legend Muhammad Ali, and many more.
Richard has been nominated for and won many awards, including the highly-coveted "Close-up Magician of the Year Award" (the magic industry's equivalent of the Oscar.) His unparalleled skill with a deck of cards has been repeatedly featured on world-wide television shows, including a performance on "Penn & Teller: Fool Us" wherein Penn Jillette admitted, "Richard Turner is one of the finest slight-of-hand artists who has ever lived. He fooled us with every single move he did!"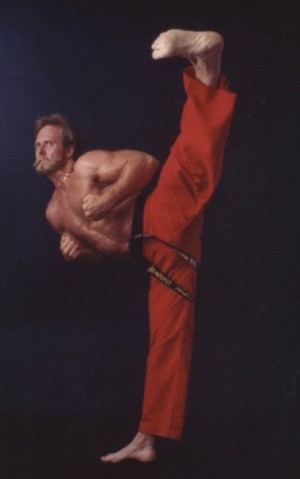 In addition to being the world's most skilled card shark, Turner is a 6th degree karate black belt. His black belt test – ten rounds, each lasting three minutes, against a fresh opponent every round – was so grueling it was televised and featured on the front page of the Los Angeles Times Sports Section.
Turner has also designed and created a series of board and puzzle games, and produced a bestselling DVD series on advanced card technique that is studied by casinos and card players worldwide. Due to his remarkably delicate "feel" for individual playing cards, he has been the Touch Analyst for U.S. Playing Card Co., the largest card manufacturer in the country, known for producing the finest quality cards preferred by professional magicians and gamers.
But what makes all of Turner's accomplishments truly incredible is that he is blind – and has been since childhood. Turner contracted a retina degeneration disease when he was nine, and his sight quickly diminished. "One day I could see the blackboard, the next day I couldn't," he says.
As a teenager, Turner's anger and despair over his blindness drove him to drugs, and then to drug dealing. He found at an early age, however, that being blind empowered him to develop an enhanced sense of touch, and once he picked up a deck of cards, his life changed.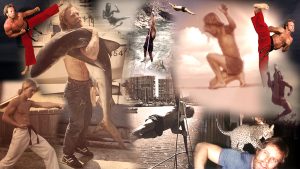 "I developed my mind's eye to an exceptional degree," Turner says. "And I tested myself through the risky mental and physical challenges of martial arts fighting, shark hunting, cliff-diving, and the high-stakes of underworld gambling."
Turner is like no one else on the planet, so his story is similarly unique. Like his incredible mind, his adventures transcend time and space. As such, his story focuses on his almost superhuman physical abilities, his martial arts prowess and his wizardly card skills, all as the framework for his life story.
Richard Turner Family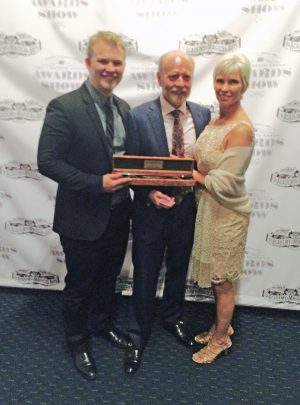 Richard is married to a beautiful, blue-eyed blonde Montana girl named Kim. Richard and Kim (as "Miss Guided") have performed together for eight years. Kim has degrees in Speech Communications and English literature and was a first place debater in college. She has black belts in three different karate systems—including two second degree black belts, one second degree under her husband Richard— and is now the Director for Development for the city of Universal City.
Richard and Kim have one son, Asa Spades. Asa is also a black belt. He has over 50 trophies, medals, and ribbons won in everything from science projects to karate fights. He is considering a career in the medical field.
Richard's dad, Jim, could make or fix anything. Jim had an incredible mind and worked on making parts for such vehicles as John Glenn's and Alan Shepard's first spacecraft and the second space shuttle.
Joan, Richard's mom, was also incredibly bright. Throughout school she received only one "B"—that says it all.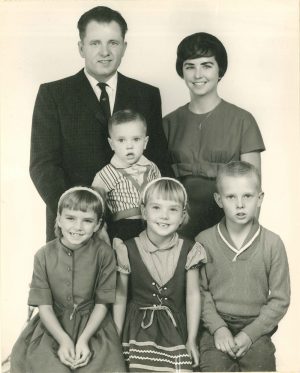 Richard is the oldest of five siblings.
Next in age was Debra. She was tragically killed by a twenty-one-year-old drunk driver while walking home from high school in 1971.
Lori (who Richard calls his genius twin sister) with her husband Garrett Dragt own and run Dragt Construction, one of the largest construction companies in Idaho.
Richard's brother David and his wife Tia have three children. David has the mind of their father Jim and can build or fix anything he sets his mind to.
Michael, Richard's youngest brother, champion surfer, and gourmet chef, has worked for some very high profile celebrities. However, he gave it up to follow his heart and is now a missionary with his bride Sifoo.
Receive occasional email updates from Richard.