Sixty-two year old Richard Turner is renowned as one of the world's greatest card magicians, yet he is completely blind. This is an in-depth look at Richard Turner documentary, a complex character who is one of magic's greatest hidden treasures.
Richard Turner documentary is the subject of the acclaimed feature film "DEALT" that won the Audience Choice Award at the prestigious South by Southwest Film Festival. The film has receiving rave reviews in publications across the country from the New York Times to the L. A. Times, and was thoroughly—and very favorably—reviewed by Film Critic Joe Leydon in VARIETY—The Show-Business Daily. "DEALT" received a rating of 95 on Rotten Tomatoes; a 5-star rating on iTunes; and VARIETY described Richard as "nothing short of dazzling."
Teller, the normally silent half of Penn & Teller, stated, "Dealt knocked me dead. I flip-flopped at least a dozen times, loving and hating Richard Turner for his bitter pride, his vulnerability, his pigheadedness, and his fanatical devotion to his art.  But in the end, Turner and the tough love of his family, won my heart.  A great documentary!"
And author/speaker Tim Ferris wrote, "This absolutely blew my mind, and I don't want to spoil it with description. Trust me and watch the short trailer here. Truly amazing. I can't remember the last time I finished a documentary, only to want to immediately watch it again. I also can't remember a doc that made me as emotional as this did, pushing me from laughter to tears. It's a masterful visual biography."
The Director is Luke Korem and the Screenwriters are Bradley Jackson and Luke Korem.
Making the Film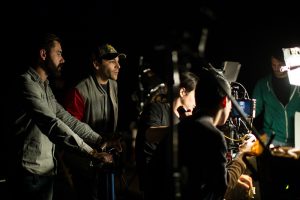 During the filming of DEALT I was thrilled to share a professional digital-cinematography studio with several camera and sound men; lighting technicians; a make-up artist; continuity director; film director; and the producers and executive producers as they video-recorded my card work using the latest advancements in video recording: Red Digital Camera Company's cameras recording in 3K Scarlet, 4K Red One, and 5K Epic. 5K Epic video is five times higher in clarity than 1080p HD, and can't even be viewed using even the most advanced TVs on the market today! (I understand that it would take seven or eight of the newest 1080p Hi-Definition TVs to display a single 5K image, but even those monitors combined could not display the entire image because Red Digital Cameras record a special raw format containing more color depth than any HDTV available to the public can display.)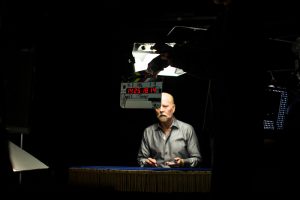 These video artists used many different lenses including 100 millimeter macro lenses, which can record the eye of an ant. I was told that when you watch me dealing seconds on the big screen it will only show the tips of my two thumbs as they deal out the second card. Each of the tiny diamonds on the back of my Bee Playing Cards will look like they are three feet tall on the screen, and viewing the close-ups will be like watching my card sleights under a gigantic microscope.
Other scenes were filmed at 120 and 240 frames per second, which is five times and ten times slower than normal speed, respectively. They recorded amazing through-the-glass table shots, which made the cards seem like they were floating in air, as well as giving a rarely seen exposé of my techniques.
Receive occasional email updates from Richard.