Driving While Blind: BioVlog 59 of 384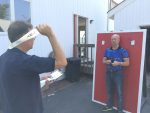 The officer says sternly to me, "I want you to produce your license, and I'm telling you I want it now!"
So I hand over my identification card that boldly states, "Not an authorized driver's license." But what causes me to go breathless with worry, is it clearly states that I am both "Asthmatic" and declared "Legally Blind."
The officer scrutinizes my ID several times, and I can feel him glaring at me.
He says with a doubting smirk, "So you're blind, huh? Boys, I don't believe either one of you! You're both going to jail for robbing that donut joint!"
The officer radios his dispatcher to report our "capture" and validate our identifications but is obviously disappointed by the response. The cop walks back to us and says – trying to maintain his dominance – "You can't drive without a license, and you can't get a license if you're blind. So, I'm writing you a ticket for driving while blind." Then, to our shock, he says, "Now move on!"
I kick-start my bike, and this genius law enforcement officer allows an unlicensed, visually impaired biker to drive away as my deaf navigator gives me vocal directions!