John Walton Faro World Record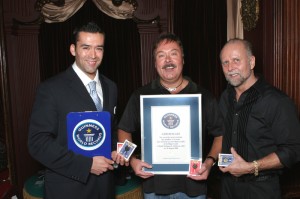 John Walton is my friend and partner in producing the Gold Seal Bicycle Playing Cards.
On August 14, 2009, at the Magic Castle, using the Gold Seal Bikes, John broke the Guinness world's record of perfect faro shuffles in a row.  If you miss you're done—you can't start over. This adds pressure and requires unbelievable concentration.
The old record was 1200 perfect faros in twelve hours. John Walton did 2784 perfect faros in a row in twelve hours.  He kicked  the old record off the planet!
Congratulations, Faro Man!
To all my Gold Seal Bike users:  Starting January 1 2010 to order Gold Seal Bicycle Playing Cards, please visit John's Web site: www.WaltonMagic.com