Supporting Our Troops with Free Books: Operation EBook Drop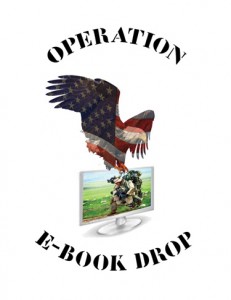 I'm a big supporter of our troops, so when I heard about Operation EBook Drop, I signed up to be part of the project.
When author Ed Patterson met a deployed soldier online, he learned that the soldier couldn't download books from Amazon to his Kindle
 because the Whispernet service doesn't work in Iraq. Ed gave the soldier copies of his own books and contacted other authors to join him in Operation EBook Drop.
He collects the names and e-mail addresses of deployed soldiers who request free e-books and passes the information on to participating authors. The authors contact the soldiers directly to offer their e-books for free download, usually by a discount code at Smashwords. Soldiers can choose the format that works on their e-book reader or computer.
Details of how to participate either as an author donating books or a soldier receiving them can be found on the Smashwords blog post about Operation EBook Drop. I hope you will help spread the word.
Logo Credit: From the Imagination and Graphic Artistry of K.A. M'Lady & P.M. Dittman