Little Italy: BioVlog 135 of 384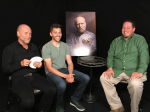 (As we continue please note that I'm going to use pseudonyms in the following passages to "protect the innocent" and, well, that's mostly me.)
Due to the constant publicity from the television shows, radio interviews, and print media, my reputation as a skilled "cheater" continues to grow.
(I first meet Mr. Gruff, Mr. Cool, Mr. Hugs and Mr. Neurotic aboard the riverboat, which is a very upscale place catering to the well-heeled.)
Our riverboat's bartender obviously has more going on behind the scene than just tending bar. I can tell he sees dollar signs behind my skills and delights in introducing me to shady characters.
The first man I meet is Mr. Gruff, who invites me to his place in La Costa. (A beach city favored by certain mobsters.)
As we turn into and move up the driveway, Jim says with an admiring whistle, "Say Mister Rick, I think this place is nice, but it's a little out of our price range."
I perform my show for Mr. Gruff's guests and, after they guests leave he offers me a potentially lucrative offer of questionable legality.
I thank him for his offer; accept the cash payment for my show; and Jim and I leave without incident.