Pity-Pot: BioVlog 18 of 384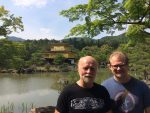 During my eighth grade year we are shown films on the dangers of LSD, and of course we know it is a ploy to scare us into staying straight.
After school I want to see if I can get any reaction or signs of caring from my Mother. I say testing, "Mom, I think I'll try LSD." Sadly, again I'm disheartened because I get no reaction. She pretends I'm not there and keeps ironing her clothes. Then I say testing further, "I'm gonna take Dad's gun and shoot myself." Again, no reaction. If she doesn't care if I live, I don't care either.  So, I'm going to give LSD a try, and I know where to get some: it is from, Art. I know him well. He works at the corner gas station.