Professor Dai Vernon: BioVlog 88 of 384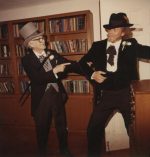 David Frederick Winfield Verner was born in Ottawa, Canada in June 1894 (exactly sixty years before my birth in June 1954).
Vernon moved to New York City at the start of World War I, where he changed his given name to Dai and billed himself as Dai Vernon – The King of Cards.
Vernon has not just been around the block; he has been around the century, and is very well-acquainted with many of the greatest magicians dating back over the past hundred years. Vernon continues to dedicate his life to seeking out magicians, card cheats, and gamblers from every corner of the world throughout his obsessive, 98 year quest to learn everything he can about all forms of magic and gambling artifice, especially with cards.