Richard's New Podcast: Shark Tales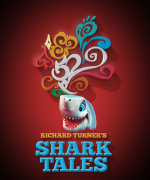 Join renowned card mechanic and living legend, Richard Turner, as he guides us through the history of card manipulation and sleight of hand. Through the Shark Tales podcast, discover the untold stories of legendary magicians and gain unique insights into Richard Turner's methods, techniques, and the magical moments that have shaped Richard Turner's extraordinary career.
In the first episode, our host, Richard Turner, is joined by co-host David Reichelt, the brilliant mind behind the mobile hit game, Color Switch. Exclusive: Unveiling the Turner Second in 4,000 Frames per Second! Shark Tales debuts never-before-seen footage of Richard Turner performing the legendary Turner Second in ultra-slow motion. Study the artistry of Richard Turner's sleight of hand in unprecedented detail.