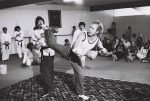 "Seated at my table with me is karate black belt, Diego Gonzalez.
Diego, you started fighting with Mr. Turner fifty years ago. Please share with us a few fighting and fun stories."
"Okay, Mr. Racherbaumer. When Mr. Turner first started training, and I had to fight in a match against him, Sensei would say to me 'be careful with Mr. Turner, don't hit him aggressively.'"
Gonzalez laughs with admiration, one night after class, Sensei and Rosemary invited Mr. Turner and me to eat carne asada street tacos in Tijuana. Back then, in 1972, tacos were inexpensive and normal people would eat three of four tacos. But not Mr. Turner, he had to go the extra mile and eat eighteen tacos…Yes, eighteen tacos! I had no idea how they fit in his stomach, but they did.
Also, I have to admit, I was jealous of how well he took care of himself. Well, truthfully I saw how my wife and the other women looked at Mr. Turner…they would say 'look at how fit he looks,' but really it was all about his looks, those muscles and how strong he was that wowed them! By the way my wife still talks about it!"
"Oh, one more story, Mr. Racherbaumer, the really odd thing was that Mr. Turner always had his cards in his hands, during Karate, walking down the street…he was always on the move with those cards and he may have fought with them…he was so fast he probably carried them as he fought me!"