Learning by Listening: BioVlog 69 of 384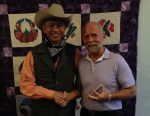 Steve Terrell and Glen Hansen are directing one of the scenes in which I'm in. Steve notices that I'm not looking toward the other actors; instead, I am seemingly staring off to the side of each actor as I recite my lines. Even though I am engaged in the scene, my sensitive ears never miss a word whispered near me.
Steve quietly says to Glen, "Rick is not looking at the actor he's talking to. He's looking off to their side."
Glen agrees, "Yeah, I noticed that too."
Steve says concerned, "This will really look strange to the audience and I have to confront Rick about how we can remedy the problem."
"Rick," Steve asks politely, "Can we talk for a minute?
With a strong touch of concern and apprehension, I say, "Sure, Steve!"
I sit down on the edge of the stage facing them, wondering how they are going to deal with this situation.