Miller's Crossings: BioVlog 115 of 384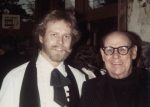 I'm banging the heavy bag with kicks when my phone rings. I answer it and hear, "Hello. This is Charlie. This is Charlie. This is Charlie Miller. Do you want to drop by for a session?"
I can hardly believe it. This is the day I've been waiting for, to sit down with Charley Miller!
My answer is quick and enthused: "I'll be there as soon as possible!"
After Charlie and I have a nice dinner, Miller starts talking about the relationship between mechanics and magicians. I break out a couple of decks, and Charley brings out over a dozen more. We begin to initiate a show-and-tell marathon. We swap card techniques throughout the night, mostly to show how the techniques look or should look. It is showy as well as explanatory. We go head-to-head, sharing moves, variations of moves, and variations of variations. Of course I'm eager to showcase my different renditions of the second deal. Charlie shows his as well. I think, Charley's are beautiful, very much like Vernon's.
We eye each other throughout the session as my Sensei would say, "Like mongooses warily watch nearby cobras." Back and forth we examine each other's moves from different angles of vision. At times, I edge less than three inches away from the action, peering like a botanist scrutinizing the underside of a leaf.
At times Charley even lets me touch his hands, which is tremendously informative.