Smashing into each other: BioVlog 159 of 384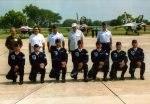 I sit down and approximately 1,000 people sit up. Everyone goes quiet, and I can feel everybody is riveted. Despite the huge stakes and the thick tension, my karate and acting training enables me to give the impression that I am pretty calm, cool, and collected when, in fact, "the butterflies" in my stomach are smashing into each other.
However, after putting in approximately 1300 days performing around 26,000, seven to ten minute shows, and with over 40,000 hours behind a deck, I've put in my time and practice. I take in a big breath, blow it out and feel I'm ready to whip all takers!
Seated next to me, as my on-stage assistant, is Irene Larsen. Irene is married to Magician Bill Larsen, the co-founder of the Magic Castle. I know that she has watched thousands of the world's best magicians perform live, and she is a seasoned and very knowledgeable spectator.
Thanks to the warmness I feel from Irene and the thrill and energy coming from the audience, I get into my gambling groove right away and show how many ways and how fast you can be skinned at the card table.