You are a Fraud: BioVlog 160 of 384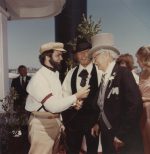 It is finally time to hear the winners. In the back of the theater, I'm standing with Janalee, and I am listening to hear who will receive the bronze, silver and gold. My vision is fuzzy, but my ears are taking it all in. Then, due to my years as a fighter, I can sense someone invading my critical distance. I stiffen. It is the reporter, Busby.
"What you did was not magic!" Busby sneers. "A card mechanic or card cheater is nothing more than a juggler, rather than a magician. You are a fraud! You don't deserve to win and you won't!"
Janalee faces the guy down and tells him off, "I hope you get cancer then rot in hell!"
I hear the MC call out the third place winner to the audience's applause, and then the second place winner is named, followed by more clapping.
From behind me Busby growls, "You are not going to win!"