Sucker Salesman: BioVlog 90 of 384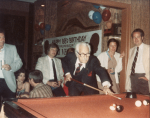 I need a coat and tie and I have only a few hours to acquire the strangling Sunday dress so, I think with a shooting dose of trepidation, "How am I going to get a suit?"
I cajole a friend of Bobby's to drive me to a men's clothing store at the Northridge Mall, where I place my cards on a clothes rack and start thumbing through the coats. I pull out a cheap corduroy coat, and it fits.
A salesman spots my cards sitting on the coat rack, steps over and says with a big fake grin, "I'll cut you high card for that coat."
"This is great!" I think excitedly.
(To Mary's frustration and irritation, I already have the obsessive habit of trying to hustle people everywhere, any time, from meals at restaurants, junk at swap-meets, and antiques at garage sales.)
I think to myself, "This is my lucky day!" Protect Yourself, Zarrow with a Strip-Out