Tightrope Walking Gopher: BioVlog 86 of 384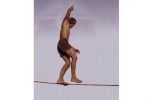 For my room, board, and compensation, Bobby insists that I learn to swing on the trapeze, walk a tight rope, and take 40-foot high falls into an air-bag.
Along with working the rigging, setting up, taking down, and acting as the over-all gofer, I set up gear and help Bobby train stunt-doubles for film, as well as stunts performed by celebrities appearing on the television shows Wonder Woman, Circus of the Stars and other TV specials.
While all of this may sound impressive, when you boil it all down I am really nothing more than Bobby's gofer. He is fearless, a trait this gofer admires, respects, and wants to emulate.
I am rigging for Yerkes during the filming of a TV special called Super-Stunts, where one of Bobby's students named Dar Robertson jumps out of one airplane, falls a mile, and lands on top of another airplane. Next, it's Bobby's contribution for the stunt special. Yerkes has a bad leg and suffers extreme pain caused by a stunt that went horribly wrong, and he hobbles as he walks. But, when it's his show-time for the TV special, I hold the rope ladder steady as Bobby vigorously climbs to the catcher's bar on the trap, hangs up-side-down, and catches flipping babes as if he is under no pain whatsoever.
Bobby's intrepid attitude, like Murphy's and Fisher's attitudes, reinforces my aspiration to, "Endure pain and adversity…The goal at all costs is to be tough enough too tough it out!"