VH Means Freak: BioVlog 7 of 384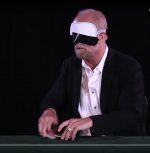 An administrator at the grammar school that Lori and I attend informs my parents that they can no longer accommodate us because of our visual inability to read and write. In the fall of 1965, Lori and I are forced to transfer to another school. It has a place called the "VH" room for those who have messed-up eyes. I hate leaving all my friends, and even worse, to be with kids who are freaks like me.
"VH" stands for "Visually Handicapped." I immediately hate that term handicapped. However, the silver lining is the man who runs the VH room, Mr. Ed Brian, who is assisted by a volunteer, Mrs. Smith. They are both friendly and kind, and I like them a lot.