A Spade through Crusoe's Heart: BioVlog 102 of 384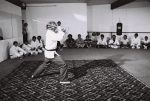 I realize that technique alone will not make it. I definitely got that message from the Castle judge whom compared me to Robinson Crusoe. So part of the mix must include appropriate dress and showmanship. Since I have wanted to emulate Maverick since I was a kid, I decide I'm going to imitate his slick, smiling, carefree style. I spend every extra penny and buy a fancy western-tailored tuxedo with a ruffled shirt, a Maverick-style ribbon tie, a custom-made western hat, and shiny black cowboy boots.
I also have my "scraggly" beard and mustache neatly trimmed.
I'm thinking about a "handle" – how to bill myself. I decide to make it simple, and just bill myself as "Richard Turner – The Cheat!"
To my thrill I, the newly smiling, riverboat-gambler-looking dude, win first place and receive the coveted Lin Searles Award for Excellence in Card Manipulation.