Always Fighting One More Round: BioVlog 186 of 384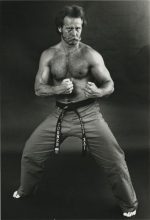 My black belt test itself is Sensei Murphy's first test permitted stateside.
My regimen is excruciatingly intense. I fight three or four times weekly, initially for two or three rounds and then I gradually add more rounds. For many fights, Douglas simultaneously pits me against two opponents, which expands my lung capacity, as there is no resting during these encounters. Aerobic conditioning is critically important. If one becomes winded during a black belt test it will end the test in failure.
In ten days I hit thirty years old. This Black belt training has not come easy. I've trained myself not to blink or flinch and to go two hours of hard exercise without the sensation of thirst. I weigh 168 pounds, I can do full-splits across two chairs; Five times a week I subject my muscular-skeletal system to at least three to four hours of grueling workouts with weights. I maxed out at 340 pounds on the bench press; I can free-curl 175 pounds: and knock out 500 push-ups in a smidgen over 12 minutes. This is immediately followed by executing 500 kicks on the heavy bag, then I chase a kick bag held by my Trainer, doing 1000 more kicks. Now I strip off my bag gloves and shirt and run five miles, negotiating (in both directions) one of the steepest hills in San Diego, along with running into parked cars and tripping over curbs. When I return, to my gasping dread, my Trainer has a chair and timer set up for ten wind sprints, I usually vomit during the eighth or ninth sprint, but my merciless Trainer forces me to finish.