Best-Man and Celebrities: BioVlog 170 of 384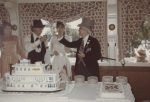 To further improve the odds of this marriage succeeding, I purchase another home and rent out the others. It is a six bedroom, three bath home that includes a photographic dark room. It is entirely solar-heated, and the bathroom tiles heat up at an appropriate time to welcome bathers into the Jacuzzi. Additional physical trappings include my 1864 square grand piano, more Victorian furniture, and a 1916 Brunswick pool table, complete with ivory balls. I also convert our finished garage into a completely equipped gym.
This furnished sanctuary is ready for us to move in immediately after the wedding.