Scared & Intimidated: BioVlog 41 of 384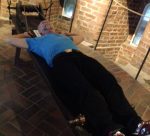 We step from Douglas' car, I case my cards and place them in my bag. There is the hint of a past rain. The smell of mold is pervasive, "That could mean trouble for an asthmatic like me." The Tijuana karate school is a dirty, dilapidated, graffiti-peppered cement-block building with no windows. Douglas and I enter the hot, sweaty, noisy dojo, and I'm very scared and intimidated. I stay close behind Douglas, trying to appear as inconspicuous as possible. There is no air conditioning – not even a fan, and it feels like an interrogation bunker. I can sense the avarice in the eyes of the local fighters in the room glittering over the arrival of some new white boys to thump.
As Douglas and I squeeze face-to-face through the crowd of fighters, there are sweaty, pock-marked faces with crooked noses and puffy lips, some of them missing teeth. However, even with their sorry-looking faces, they exude excitement, confidence, and are obviously ready to prove themselves. In or out of the ring, Tijuana is a rough place.